Introduction
MicroRack Virtual Dedicated Server System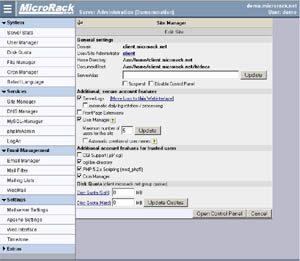 The MicroRack Server System is a powerful and cost effective alternative to buying and maintaining your own dedicated server. A secure and reliable solution for e-commerce and virtual hosting as well as corporate and small business applications. The MicroRack range of virtual dedicated servers utilize the highly secure and reliable FreeBSD operating system and are equipped with the advanced ServerMaster.net Web Control Panel System.
Unlike dedicated servers available from other providers the MicroRack servers offer you a "semi-managed" server solution at no additional cost.
The core FreeBSD installation is located on a managed, secure read-only partition in that regular updates of all of the core operating system software will be continually updated as the latest versions become available so there is no need for you to have to compile your own versions or install patches and bug fixes as these updates and installations will be handled for you by our support department.

All of the data on your MicroRack server is automatically backed up on separate file systems once daily at midnight GMT. If you require the restoration of any data you can request that a specific file or directory be replaced for you from the backup archive.

The MicroRack servers offer full root/superuser access as well as the ServerMaster.net Web Control Panel System for both the main server administrator and all of the virtual sub-hosting users. The various features and services on the MicroRack system can be executed easily with a JavaScript enabled web browser such as Internet Explorer 10+, FireFox, Chrome, Safari or Edge. The web interface allows you to create and manage user accounts, set up domain based web sites, manage email accounts and aliases, access web site statistics and much more.


The virtual sub-hosting site users can be allowed the ability to create and manage their own user accounts which can be allocated with both hard and soft disk space quotas and a maximum number of user and/or email accounts.
Both the main administrative and end user client control panels are available in 10 different languages, English, German, Spanish, French, Portuguese, Russian, Greek, Albanian, Italian and Dutch with additional languages to follow in future. Each MicroRack server comes complete with it's own dedicated web, mail, and ftp servers, providing you with full control over all aspects of your servers configuration. With full root access you have total control over your server environment. You can compile and install any software desired, create IMAP, POP3, FTP, TELNET or SSH users and access all server configuration files. The Apache Web server provides support for most of the popular Apache modules.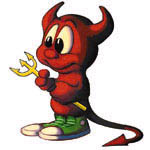 The operating system on the MicroRack servers is a standard version of the FreeBSD OS with a number special modifications having been made to enhance the system which means that all of the standard file structure, services, and commands of a "generic" FreeBSD dedicated server operating system are maintained. Support for Perl, PHP5, MySQL, FrontPage and other common applications has been pre-installed for you and the many third party applications or "ports" which are available for both the FreeBSD and Linux operating systems will be compatible with your new MicroRack server.